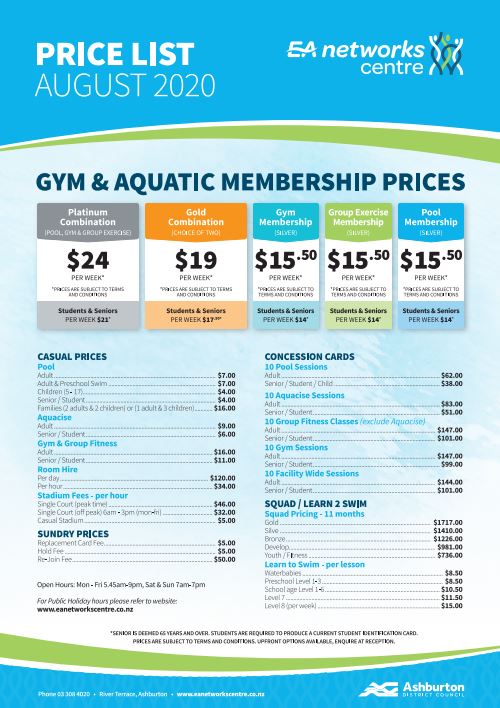 EA Networks Centre offers a range of memberships to suit everyone. From the all-inclusive Platinum membership to the more casual concession card options, every activity and customer is catered for.
Platinum
The option that provides everything. 'Build the best you' in the gym or sweat it out in an exhilarating group fitness class, then head down to the pool to wind down in the spa and steam room or wind it up with some laps of the pool or an aquacise class – it's all at your disposal.
Adults $24.00 per week
Students & Seniors $21.00 per week
Gold
Our gold membership options give you the choice of any two areas, gym, group fitness or pool. Pick your favourites and get into it.
Adults $19.00 per week
Students & Seniors $17.50 per week
Silver
Our silver membership gives you access to any single area of the facility at an awesome price. Focus on yourself in the gym or join the team in a group fitness class, take on the water in the aquatic centre – it's your choice.
Adults $15.50 per week
Students & Seniors $14.00 per week
Notes about each membership option:
Aquacise is included with all Group Fitness memberships, not with Pool memberships
Assessments and Programmes are included free of charge with all Gym memberships
Memberships are subject to terms and conditions which are available on request at facility reception.
Concession Cards
We offer a range of concession card options for the more casual visitor.
Pool Concessions
10 visit options only
Includes access to the awesome aquatic facilities at EA Networks Centre
Does not include Aquacise
Aquacise Concessions
10 visit options only
Suits the regular aquacise visitor
Does not include any other pool access
Block Programmes
From time to time we may release a range of block programmes across the centre, each carrying its own terms and conditions. For more information contact the Centre on 03 308 4020.